Terry has been a professional sculptor since 1968. He studied at the Hussian School of Art in Philadelphia and the Ecole des Beaux Arts in Paris, France. The first 16 years of his professional career were spent sculpting over 600 bas-relief coins and medals for various private mints. In 1980 he was one of a very few American artists to be invited to show at the International Exhibit of Medallic Art in Florence, Italy. In 1984 the American Numismatic Association named him Medallic Sculptor of the year. Among so many other coins and medals, he sculpted the Vince Lombardi Super Bowl coin-toss commemorative and portraits of Gov. Tom Ridge and Lt. Gov. Mark Schweiker for the 1999 PA Inaugural Medal. He also created "coin of the realm" for foreign countries: British Virgin Islands, Bahamas, Jamaica, Panama, etc.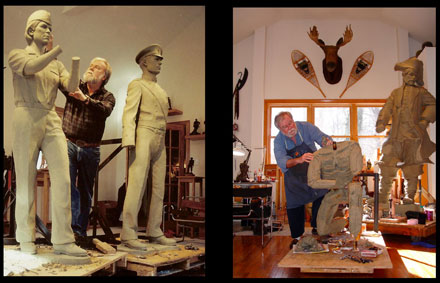 Since 1988 Terry has been involved in many monumental projects, which have literally taken his talents to new heights - please visit the Monuments page to see each of these works.

About the Artist
Over the years, Terry's work has moved from bas-relief to figures "in the round". He has successfully combined his lifelong love of history with his storytelling ability to create dynamic representations of personalities and events from the past. He has the unique ability to combine creative enthusiasm and historical accuracy in all his sculpture.